Golden Milk
We learned about Golden Milk from a friend of ours who often drank it at bedtime while he was growing up because it is such a soothing, warm treat. It includes turmeric, a spice known for its anticancer properties. Turmeric has curcumin in it, which gives it that beautiful yellow color.
The ground turmeric called for in this recipe is similar to other jarred spices but has a bright gold color: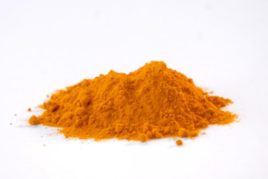 Turmeric comes from turmeric root, which looks similar to ginger root: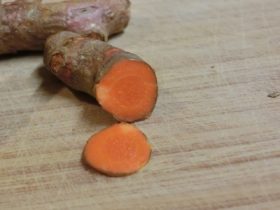 We like to keep fresh turmeric root in a plastic baggie in our freezer. We add it to recipes once in a while by rubbing the frozen root on a grater or microplane. For this Golden Milk recipe, however, we like to use the dry, ground turmeric from a jar.
It may seem odd to include black pepper in this recipe, but it is important! Don't leave it out. It helps our bodies use and absorb the beneficial compounds in turmeric. To learn more about this please click here to view a video from NutritionFacts.org .
This hot, restorative beverage tastes great any time of day, but it is especially beneficial at night. Kim and Marissa cook up a batch in a small pot on the stove a couple times a week. We hope you enjoy it as much as we do! Cheers!
Whisk all ingredients together in a small saucepan. Heat over medium heat until warm, stirring often. Enjoy!
We like to use pumpkin spice in our Golden Milk because it has such a rich blend of spices including cinnamon, cloves, ginger, and nutmeg. Adding pumpkin spice is a simple way to mix in a nice balance of spices without having to measure a lot of ingredients. You could use apple pie spice mix instead, if you like.